How to buy
How to buy at the new bogdangawlik.com Fly Fishing Shop


For your convenience we have simplified the method of buying products which are available in many colours and sizes.
From now on, you may add to your basket several different alternatives just with one click.

Select the product alternatives you are interested in by clicking "+" or "-" and specify the quantity.
The selected goods will be highlighted grey.


 

In the same manner you will select the product sizes.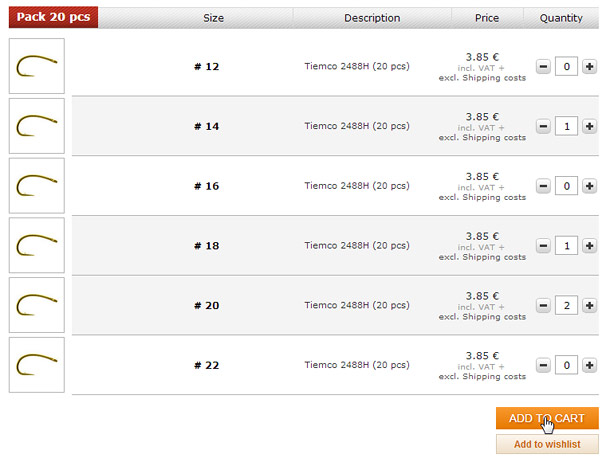 After you click "ADD TO CART", the summary window appears.


The order placing process is divided into the following 4 steps:
1. BASKET
Here you will see the list of products which you have added to your basket, together with the sizes, unit prices and quantities. You may determine the quantity by clicking "+"or "–". Clicking "X" you will remove the selected products from the basket. If you have collected an adequate number of points in theloyalty programme, you will see the information about your rebates on the left-hand-side of the field. In the summary you will see the total value of the order. Here you have to click either "Go to the next step" or "Continue shopping".


2. DELIVERY AND PAYMENT
When selecting the method of delivery you will see the cost of the parcel and the approximate time of delivery. Select the payment method most convenient to you. All electronic payments are made through a secure connection compliant with the highest standards (see more about payments). Here you have to click "Go to the next step" or go back to the basket and continue shopping.


3. COMMENTS TO THE ORDER
Please check your delivery address! You may also add comments for the shop assistants or the courier. If something is not correct, you may go back to the first or second step in order to make changes. The specified amount represents the total cost of the order. You will be required to read and accept the Rules of the Shop as well as confirm your awareness of your right to withdraw from the agreement.
After you click "Order with the duty to make payment" you will be transferred to a secure payment site (if you have selected a quick wire transfer, payment card or paypal). After you have made the payment the last shopping page will appear.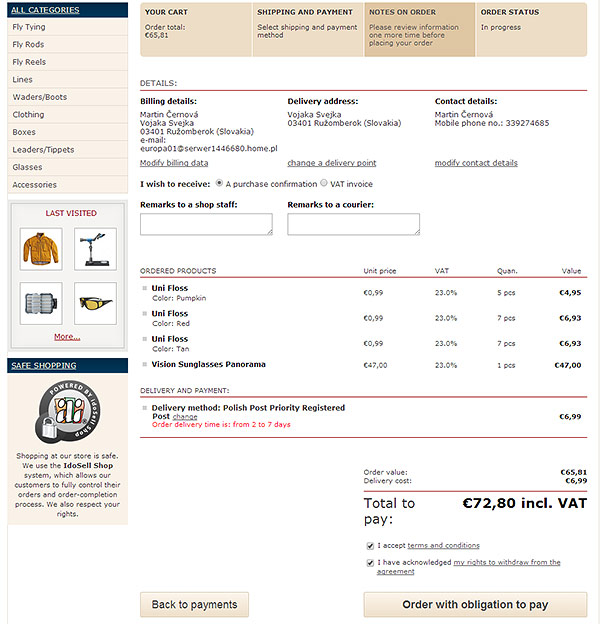 4. ORDER PLACING
Here you will find the order number, the current order status, and the payment status. You may come back to that page through your account, by clicking "Current Orders". You may also enter that page after the transaction is completed by clicking "Orders Fulfilled" and the respective number.
If you have selected a regular wire transfer as a method of payment, this page will include transfer details. If, for any reason, you have not completed payment (problem with the browser, computer or other), you may go back to the payment page or select another payment method. By the time the shop assistants start fulfilling the order, you may still cancel your order.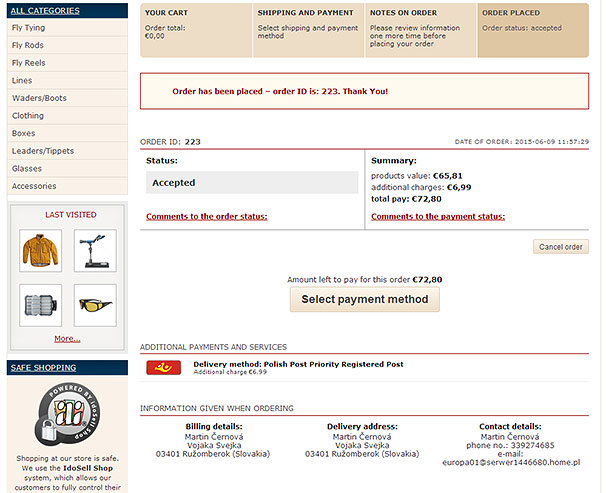 That's all! – Your order is under way.